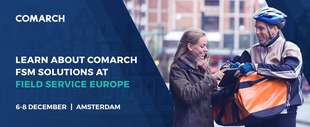 Voor veel dienstverleners is het een hele uitdaging om talloze orders en storingsmeldingen van klanten te beheren en tegelijkertijd een groot team van over het land verspreide monteurs te coördineren. Maar omdat de mobiele technologieën nu zo geavanceerd zijn, krijgen ze ook de kans om in hun dagelijkse werkzaamheden te profiteren van concepten als cloud en IoT. Cloud gebaseerde IT-tools in combinatie met slimme apparaten (zoals Comarch beacons) zijn belangrijke factoren om het beheer van de buitendienst te digitaliseren.
Wij zijn blij te mogen deelnemen aan de conferentie Field Service Europe, die van 6 t/m 8 december in Amsterdam wordt gehouden. Bezoek onze stand, praat met onze experts en kom meer te weten over onze cloud gebaseerde FSM-oplossing.
Op de eerste dag van de conferentie, die veranderende bedrijfsmodellen als thema heeft, onderzoeken we de mogelijkheden die IoT brengt op gebied van site access management. Kom luisteren naar IoT in the Field – Keyless Site Acces Management. Deze lezing wordt om 12.25 uur gegeven door Tomasz Koropacz, FSM Pre-sales Consulting Manager.
Op de tweede dag, die draait om het benutten van digitale transformatie, nemen we deel aan Technology Toolbox Talks. Wij sporen u aan om nr. 6 te kiezen: om 10.50 uur geeft Tomasz Koropacz een lezing getiteld A New Approach For Technician Motivation: Is Gamification a Next Step in the Field Service Mobility Journey?
Hier vindt u meer informatie en kunt u zich inschrijven voor het evenement: (https://fieldserviceeu.wbresearch.com/srspricing )
Als u een afspraak wilt maken of een kortingscode nodig heeft, kunt u contact opnemen met Event Manager Agata Wolska via agata.wolska@comarch.pl